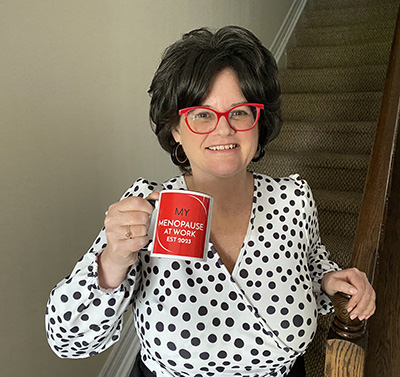 Darlene: Menopause Champion and Changemaker
Darlene didn't know what perimenopause was until she was in it and then it hit like a storm. She experienced 33 symptoms, including brain fog and lack of sleep. It affected her ability to work and left her feeling alone, helpless and hopeless. She tried to speak to her former manager, but he told her that because it was not something he'd ever go through, he didn't know how to help her. "There was no support at my work," she said. "I learned that you do not talk about it due to the stigma." Darlene felt she had no choice but to leave the role she loved at a federal government agency.
After consulting a pharmacist certified by the North American Menopause Society and her family doctor, Darlene embarked on a program of improved nutrition, lifestyle changes and pursuing her passion for powerlifting. Eventually she tried menopause hormone therapy and stayed with it. She was able to sleep properly and think clearly again, so much so that she returned to work.
Darlene was also inspired to take action.
To prevent other women from enduring perimenopause with little understanding and no support, she created "My Menopause at Work" in the summer of 2023.
"My Menopause at Work" is a virtual group on the federal government platform, GCcollab, a collaboration and networking platform open to all Canadian public servants (federal, provincial and territorial), and academics and students (by invitation). It is a one-stop shop that provides information, resources and peer support to manage the menopause transition at work.
Realizing Darlene's vision for My Menopause at Work started with a conversation with her new manager. She spoke about her lived experience, how it affected her at work and how My Menopause at Work could assist with talent retention and productivity, putting the federal government in a leading position on the issue. This time her manager was receptive, and Darlene is moving ahead with plans for a kick-off event to mark World Menopause Day on October 18, 2023.